There are many components to a successful real estate sale. Here's a breakdown of the selling process, with some added pro-tips to help you navigate through your next listing experience!
Start interviewing realtors early in the process. It may be tempting to go with the first realtor you look up online, but there are innumerable benefits to interviewing at least two agents for the job. Real estate agents are each unique and each individual agent brings different values and services to your listing. Choosing an agent early in the process (even if you're just thinking about it) can help you save a lot of time and money! Often, sellers will want to "fix up" their house before involving an agent. However, a real estate professional can give you a lot of guidance and resources when it comes to increasing the value of your home, often for much cheaper than you could have done it alone!
Monitor the market. If you're not ready to list right away, your realtor should be equipped with many tools to help you understand and easily follow the real estate trends in your area. Gaining a clear understanding of the market helps put your property in perspective in relation to other listings. This will save you a lot of time down the road when negotiating offers from potential purchasers. Your realtor should keep you up to date with any news that will affect your sale price as you prepare to list your property. Additionally, if you're planning on purchasing a property once you sell, shopping for a home early on is always a good idea. Your realtor can help you plan for perfect dates between the sale of your current home, and the purchase of a new one!
Sign the listing contract. Once you're ready to officially list, your realtor will go through the listing contract with you. The contract will break down all the details of your listing – sale price, when the listing will expire, when it will go live, commission, etc. This is where I bring my clients a calendar and highlight all the important dates. Here's an example: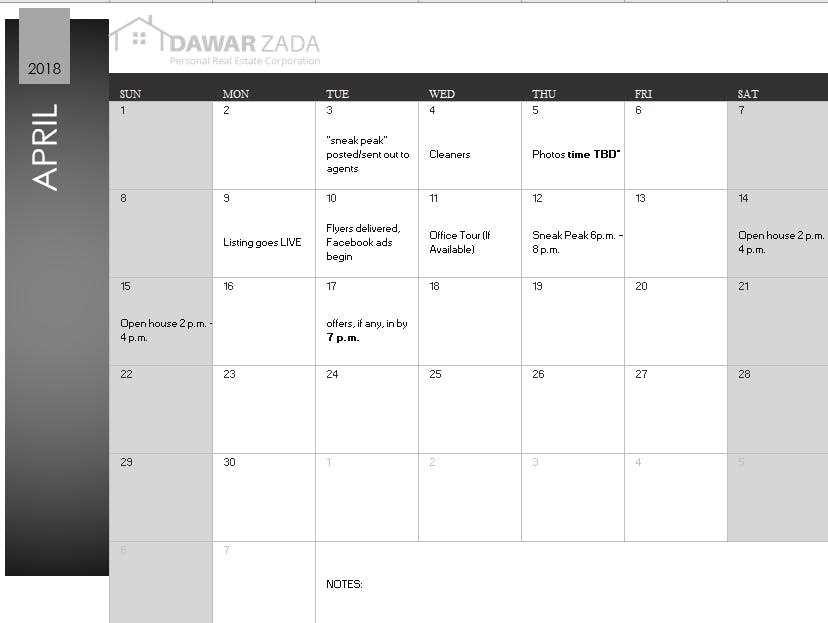 Cleaners/photos/staging. Depending on your property, your realtor may offer you one or all these services. Cleaning and photos are something I always provide because I know the difference high-quality photos and a clean smelling home can make. Staging can be an effective tool as well, however, most of the time it can be done using a clients existing furniture, with a few added candles or flowers!
Marketing. This has become an increasingly important part of the selling process. Listings have recently saturated the market. For buyers who are hunting online, scrolling through hundreds of photos and descriptions can become underwhelming and sometimes boring. It's important to set yourself apart from the masses and create a memorable online presence. My online marketing strategy uses neighborhood demographics and real estate statistics to strategically market your home to people who are actively searching to buy similar listings.
Open houses. It's no doubt that an open house is an effective way to get buyers inside your home. There are even scientifically proven ways to make your house more memorable and appealing to potential buyers. It's been shown that 90% of buyers begin their house hunting online – so, as well as high-quality photos, I always have an online, virtual tour available as well. These highly interactive virtual tours have been an amazing tool for potential buyers who aren't able to attend open houses.
Offers. You may either set a date and time where all offers must come in at or entertain offers as they come. There are benefits to both, and your realtor will help you decide which is more beneficial to you. When you receive an offer, your realtor will help you in deciding how to deal with the offer.
Accepted offer. Generally, an accepted offer will come with conditions or "subjects" set out by the buyer. These conditions often include subject to financing and subject to inspection. Once the subjects have been met, subjects can be removed. Your home is now SOLD!
Completion. Completion date is the day that both the sale proceeds and title of the property change hands between buyer and seller. You receive money from the buyer, and, in exchange, the buyer obtains legal title to the property.
If you got your agent involved early in the process, they've helped you work out the best possible dates between your sale and the purchase of your new property. Check out my blog on the buying process and feel free to send me a message if you have any other questions!